So, you want to be like Jack Bauer?
For 24 updates and more tech stuff, visit my new blog
@
SIMA.org (Snakes in My Ass!)
No one can be
exactly
like Jack Bauer. He's too hardcore. You'd kill yourself by even
dreaming
that you were Jack Bauer.
You, however, want to be in his
likeness
. So, I have compiled a handy list for those Jack Bauer wannabes; perfect for a night out on the town or for saving the United States of America from biological or nuclear obliteration.
There are essential items that Jack Bauer wears that contribute to his overall trademark ruggedness and badassness. They are:
(1) his jacket
(2) his over-the-shoulder bag
(3) his watch
(4) his sunglasses
(5) his cell phone
(6) his pistol
If you are able to pilfer all of these items you are one step closer to being
similar
to Jack Bauer. If you dare claim that you
are
Jack Bauer, Jack will personally appear at your house in the middle of the night, shoot your loved ones in the kneecaps, kick your dog, smash your fine china, and then personally torture you by carving off a chunk of your FACE. Do you really want to go through all that? No, I didn't think so.
Item 1: the Jacket
Jack uses a variety of suave and sophisticated jackets over the 5 days that we've been following him. A personal favorite of mine is the jacket/hoody.
After intense deliberation and speculation, a lot of people have claimed that Jack's jacket is the japanese-made:
Supreme Water Proof Hooded M65 JKT Black.
Not only will you be stylin', but you'll also be pragmatic with the hood. You'd dare not take your chances catching a cold while saving the world, would you? Of course, Jack Bauer doesn't get sick, he makes other people sick.
Item 2: the over-the-shoulder bag
Pack smartly for any situation with this shoulder-strapped bag:
the Heavyweight Classic Messenger and Travel Bag -- Unisex
made by

Ultra Force

.

Jack brings this thing everywhere. Whether he needs a fully-loaded magazine for his pistol, some expertly-crafted C4 demoliton packs, or his freakin' sunglasses, this thing holds it all and more.
Item 3: the watch

Time moves unbearably slow in the world of Jack Bauer. Heck, he needs to stop conniving terrorists in a single day. No bathroom breaks, no naps, no showers, no time to eat, no nothing. Jack Bauer focuses on the task at hand. And what perfect timepiece to showcase than the:
Ballistic band MTM Special Ops watch
. MTM is recognized for their specially designed military watches: perfect for Jack.
Item 4: his sunglasses
Jack Bauer likes to rock it 80s style with his huge aviator glasses that intimidate even Christopher Henderson (i.e. Robocop "Murphy"). Any aviators will do but as a suggestion:
Elite Metal Aviator Sunglasses with Mirror Lens
by

80s Purple

will do fine.

The mirror effect on these babies will prove handy when interrogating suspected perps. For Jack Bauer, as soon as you can see your reflection in his sunglasses, you're probably already dead and Jack's image is just seared in your mind for the rest of eternity.
UPDATE: If the 80s Purple style doesn't suit you, and you want to go totally official Jack Bauer style, try out the
Serengeti Large Aviators
...you won't regret buying them. (Thanks Ali)



Item 5: the phone
You find yourself in a ventilation shaft high above some terrorists. You need to snap some high quality pics and upload them to Chloe, but you have no digital camera and/or laptop computer! You also need to dupe German special agents by letting them think you transferred over to them the list of undercover CIA operatives in Europe, but you have no PDA! Also, Kim's birthday is coming up but since you've neglected her, you don't know when it is! You need some sort of calendar/address book type thing! Have no fear. Jack Bauer is a hardcore pirate and can afford a brand-new
Palm Treo 650 Smartphone
.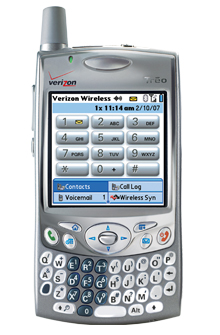 Item 6: the pistol
Believe me, you do
not
want to be looking down the barrel of this thing. Jack's
H&K USP Compact
has the unholy power of not missing. If Jack fires, you die. Simple.
That's it! You're done! Now slap on some jeans, a kevlar vest, some SWAT tactical boots, and you'll be rockin' it like Jack Bauer.
Furthermore, if you want to
embody
the true essence of Jack Bauer. Here are a few tips:
Be a white guy. Have blonde/brown hair. Be 5'10 and a half.
Get a bachelor's degree in English Literature from UCLA. Get a Masters of Science in Criminology from UC Berkeley.
Get married. Have a daughter in the likeness of Elisha Cuthbert.
Join the military and be part of the Delta Force Counter Terrorist Group. Go to the LAPD Swat School. Be on LAPD SWAT. Get hired by Los Angeles Counter Terrorist Unit (CTU).
Have your wife killed by a co-worker.
Work your way up to be the special agent in charge, and eventually Director of Field Ops. Go undercover in the Columbian drug cartel. Become the special assistant to the Secretary of Defense.
Fake your own death.
And finally, be reinstated into duty by a corrupt President of the United States.
Source:
Fox Broadcasting Company